Wednesday Dinner Specials
The Inn of the Seasons
In compliance with the State of New York, all prices listed, advertised and posted are reflective of credit or debit card payment. If cash payment is received a 3.75% discount will be applied.
Wednesday, December 6, 2023
This Evening's Specials~
Ham and 16 Bean Soup
Assorted beans, ham, carrots, celery and onion are simmered in homemade Ham Stock.
$7.50 Bowl/$6.50/$23 Quart ToGo
Pappardelle Bolognese
Fresh egg Pappardelle is tossed in this classic Italian meat sauce made of ground beef, veal, pork and pancetta, slowly cooked with tomato, onions, carrot, celery,
garlic and cream-topped with Romano cheese.
$35
Nova Scotia Swordfish
Harpoon caught Nova Scotia Swordfish is char grilled is served on a bed of vegetable rice and finished with Brad's Lemon Butter
$40
Roast Rack of Lamb
Herb crusted Lamb Rack is roasted to medium, served with our housemade bordelaise, Augratin potatoes and vegetable.
$58
Veal Osso Buco
Meaty veal shanks braised fork tender in a wine and vegetable stock – served on Brad's Yukon Mashed.
$58
Sliced Tenderloin of Beef
Certified Angus Beef ® (CAB) brand defines the standard by which all beef is measured. Our CAB Tenderloin is char grilled to your liking, sliced, served on a
bed of bordelaise sauce, topped with béarnaise sauce – served with augratin potatoes and vegetable.
$58
This evening's Wine Special-
Penfolds Koonunga Hill Shiraz
Over a 175-year history, Penfolds has owned and leased some of the best vineyard sites in Australia, and work with carefully selected growers to stay true to their
fruit-first philosophy of multi-vineyard, multi-regional sourcing. Fresh and juicy, the Koonunga Hill Shiraz is bursting with ripe black fruits with hints of raspberry and spice. This smooth wine is such a pleasure to drink.
$42 bottle
Regular menu also available
If you have a food allergy, please notify us.
Please Note: The Inn uses Peanut Oil for our Fried Menu Items.
Join Us for Dinner This Wednesday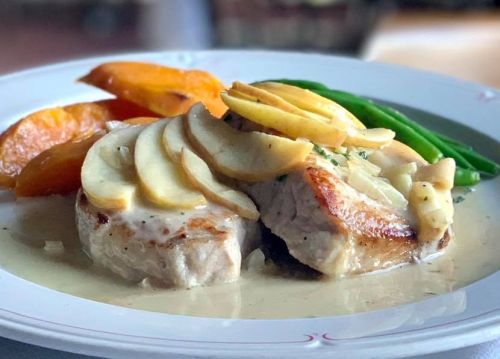 Call Now to Make Your Reservations